CONNECT TO THE INNOVATIONAL WORLD OF METAVERSE
Metaverse brings the future you need.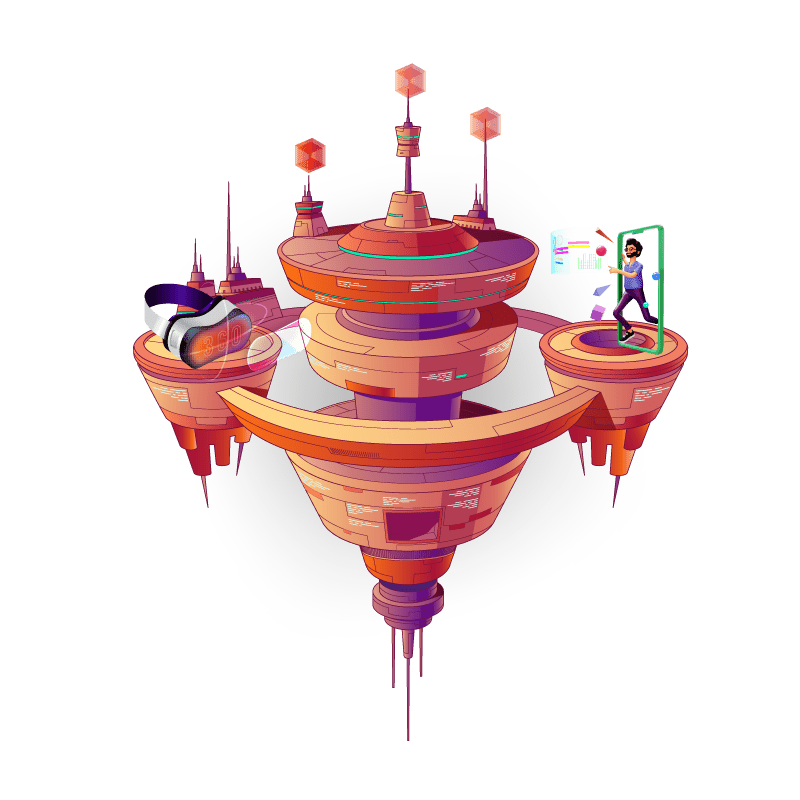 Use of Metaverse in Various Industries
Metaverse is a multidimensional digital space that lies beyond the world we live in. It's a collection of all possible versions of a place or object, along with our perception of ownership and rights over them. It's made up of layers that enable people to travel back and forth between real-world places and avatars; to transform into them; to explore more than one identity at a time, and choose how they evolve.
Our Metaverse Development Solutions
The Metaverse is a virtual world with limitless potential. It's an all-in-one solution for the future, where we can seamlessly blend our real and digital worlds and utilize blockchain technology to empower users' creativity within the Metaverse. The system works with cryptocurrencies, allows immediate transactions, and provides scalability and security, enabling users to express themselves through in-game items and digital assets while creating valuable data points that will help us better understand human behavior in various contexts.
Why Choose OptimusFox for your NFTs Development to Deployment services?
The Metaverse platform is built to get companies up and running as quickly and efficiently as possible. It also offers a host of tools that let you know precisely what needs to be done, what will work, and what has already been done effectively.
The main challenge associated with the metaverse is trying to create a virtual world that can be used in everyday life. People need to be able to distinguish between real and emergent entities. Also, users need a means of tagging their knowledge to keep track of it and enable others to use it at will.
Metaverse aims to change our world by replacing the current online user experience with more valuable alternatives. We envision a world of higher consciousness, where people work together on multiple projects and build organizations through their contributions in virtual reality worlds across the

m

etaverse.